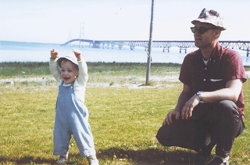 With my Dad, celebrating the beauty of the Upper Peninsula before I could walk.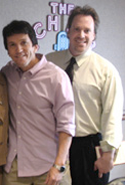 Appearing on WJR in Detroit on the Mitch Albom Show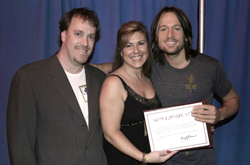 Backstage with Keith Urban on his birthday for a special presentation from his fan club
Peter Wurdock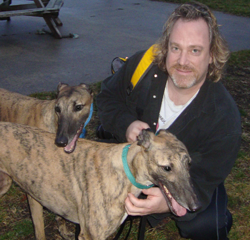 Peter Wurdock was born and raised in Royal Oak, Michigan. He graduated with honors from Dondero High School and later attended Albion College with the intention of pursuing a career in creative writing and journalism. He was later accepted to the renowned Berklee College of Music in Boston, MA, where he studied composition, arranging and performance. Upon returning to Michigan, he worked part time as a professional musician, playing professionally in musical theater and performing with various bands in the Detroit area.
Wurdock worked briefly in Nashville as a record promoter with some of the top country artists of the 90's. He came back to Detroit to team up with Detroit music legend, Stewart Francke and has played an important part in each of Francke's fourteen award-winning releases since 1995. He served as an officer on the Stewart Francke Leukemia Foundation, helping raise money for leukemia patients and their families, while helping create MOM (Musicians Outreach of Michigan) along with Francke for cancer patients at Karmanos. He was the Vice President of the Royal Oak Historical Society, and has acted in Community Theater projects as well as having one of his plays produced.
Wurdock worked for 10 years as Marketing and Communications Director for a leading non-profit senior housing agency in metropolitan Detroit while pursuing his passion for writing fiction, non-fiction, stage plays, music, poetry and photojournalism. As a writer and photographer his work has appeared in local, regional and national publications. His leisure time is divided between his family's century-old cottage in Delavan, WI and in a remote log cabin, deep within the Hiawatha forest near Lake Superior in Michigan's Upper Peninsula. He is single and currently resides in Newberry, MI with his two adopted Greyhounds.